Rodney Ewing
Rodney Ewing is a visual artist based in San Francisco, CA. Ewing's drawings, installations, and mixed media works focus on his need to intersect body and place, memory and fact to re-examine human histories, cultural conditions, and events. With his work he is pursuing a narrative that requires us to be present and intimate.
"As an artist, it is more important to create a platform that moves us past alliances, and begins a dialogue that informs, questions, and in some cases even satires our divisive issues. Without this type of introspection, we are in danger of having apathy rule our senses," Ewing states.
On Friday, August 23, 2019, 6:30 - 8:30pm, SEE(d) invites you and a guest to an intimate, behind-the scenes visit in Ewing's studio in the Pacific Felt Factory arts complex in the SOMA/Mission district. Boutique wines and appetizers will be served. Get your inspiration here.
Ewing's work has been exhibited at National Veteran's Art Museum in Chicago, IL, Euphrat Museum of Art, Cupertino, CA; The Drawing Center, New York, NY; and in San Francisco, CA at Museum of the African Diaspora (MoAD), Root Division, Jack Fischer Gallery, San Francisco Art Commission Gallery, Nancy Toomey Fine Art, Alter Space Gallery, and Ictus Projects among others. He has been an Artist-in-Residence at MoAD in San Francisco, CA, Headlands Center for the Arts in Marin, CA (summer 2019), Bemis in Omaha, NE, Recology and the De Young Museum of Fine Arts in San Francisco, CA, as well as Djerassi in Woodside, CA. Ewing received his BFA in Printmaking from Louisiana State University and his MFA in Printmaking from West Virginia University.
High Cotton, 2018
dry pigment and acrylic paint on paper
Rodney Ewing in the studio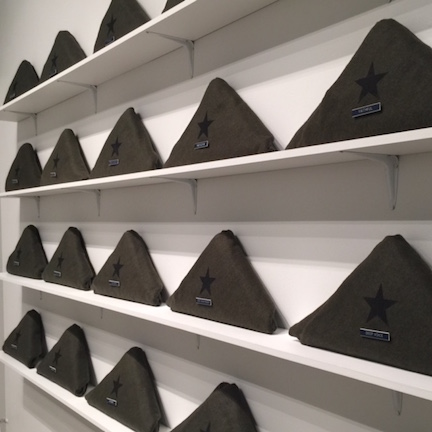 Sum of My Father, 2018
wool military blankets, silkscreen, and engraved name plates